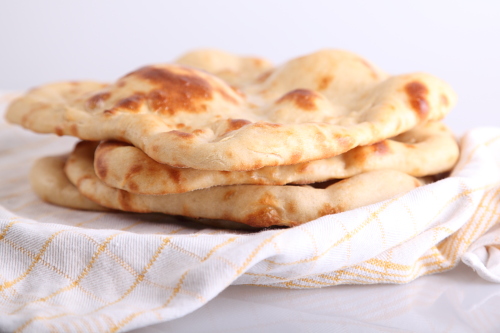 We made these basic flatbreads on the stone floors of our Rofco oven
Naans are traditionally baked in a Tandoor or earthen oven. But making them yourself, using your own oven can also lead to very satisfying results. It's so much fun seeing them puff up after you 'trow' them on a hot stone or wired rack. 5 minutes later and you are already enjoying your homemade flatbread! Try this basic naan recipe and see how it works for you. After that, you can try adding other ingredients, spices like cumin and coriander seeds, fillings with almonds and raisins and so on. I really love this style of bread making, also because it gives instant gratification, to counter balance lot's of other breads we make that take 2 to 3 days.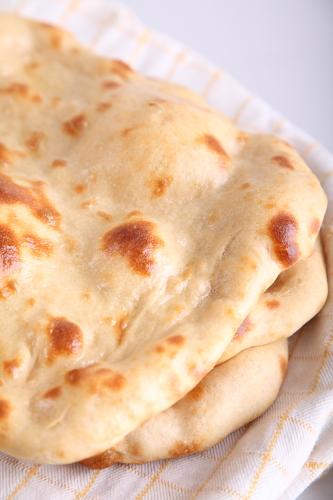 Don't forget to brush them with butter or ghee as soon as they come out
Ingredients for the Naan
420 g wheat flour (bread flour)
7 g salt
2 g instant yeast
115 g lukewarm milk (you can also use yogurt)
175 g water (bit less or more depending on how much moisture your flour absorbs)
25 g melted butter or ghee* for brushing
*Ghee is clarified butter that originated in India and is used in South Asian and Arab cuisines, traditional medicine, and also religious rituals.
Making the Naan
We make this dough 4 hours in advance to preferment because this adds extra flavor. And this way you use less yeast to begin with. If you do not have the time to do this you can use more yeast (use 7g instant yeast and approx 1 hour of resting before you go to the next stage). The dough is made by kneading the ingredients in a standing mixer (except for the butter, which is used for brushing on later) for 4-5 minutes. Place the dough in a greased bowl, cover with clingfilm and leave to rest for 4 hours.
For the next step you divide the dough in 4 or 6 equal parts (depending on the size you want) and shape it into balls. Brush the balls with the butter or ghee. Cover and leave to rest for another 15-20 minutes while you preheat your oven as hot as possible, some go to 250°C / 480°F, but if yours goes to 300°C / 570°F, that's even better. Make sure the stone or rack is also in the oven while you preheat it, because you want your bread baked directly on a hot surface. Now take a ball of dough and gently stretch it to an oblong shape (see pictures) and throw it in the hot oven..please be careful! See how it puffs up and take it out after 4 to 5 minutes. Brush again with melted butter or ghee and wrap in a cloth to keep soft and warm. Repeat the process with other dough balls. Enjoy!
Tip: Also lovely from time to time is a Peshwari naan, filled with a mixture of ground pistachios or almonds, raisins and sugar.