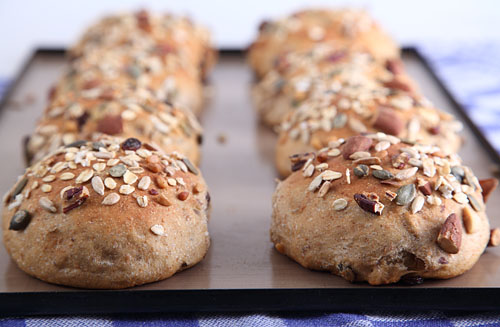 I like these buns because they make you feel healthy and happy. They taste so good and every bite you take is a little different from the next, because there's so much going on with all the different ingredients.
I usually make double the amount of this recipe. The buns keep well in the freezer and you can give them a quick 'pick me up' in the microwave.
Before you start!
You need to prepare a so called 'sweetener' which gives the dough it's distinctive and pleasant taste. For this you mix 40 grams of sugar with the zest of 1 unwaxed lemon and one unwaxed orange. You can store this mixture in your fridge, it will keep for a long time. You also have to wash and soak your raisins. First wash them and then leave to soak for 10 to 20 minutes in warm water. Rinse with cold water and drain.
You also have to lightly toast the mix of nuts, seeds and oats or other grains and leave them to cool before they go into the dough. Put them on a baking tray and toast them in your oven for about 12 to 15 minutes at 145 ºC /295 ºF.
Ingredients
makes 12 muesli buns
400 g wheat / bread flour
30 g fresh yeast or 10 g instant yeast
8 g salt
25 g fresh dairy butter
3 g ground cinnamon
280 g water
10 g sweetener (sugar and lemon/orange zest mix)
180 g raisins, washed and soaked or a combination with dried apricots
150 g muesli mix of choice (also see our homemade toasted muesli recipe)
you can use oats or crushed wheat to cover the top of the buns or you can use 50 grams of the muesli mix for this
Making the Muesli Buns
Make the dough with all the ingredients (except the muesli mix and raisins) and 200 grams of the water. Then gradually ad the rest of the water and knead the dough well. If you use a KitchenAid type mixer, mix for about 8 to 10 minutes. Make sure the dough is not too sticky or too dry. Aim for a bit tacky, which means that when you poke the dough with your dry finger it should stick for a second but then peel of as you remove your finger. Leave to rest for 5 minutes.
Ideally the temperature of your dough after mixing should be around 24-25 ºC / 75 ºF. You should adjust the temperature of the water you add, so the total dough reaches this temperature. For us this means in summer adding cold water to this recipe and in winter adding warmer water (up to 50 ºC /122 ºF if needed). You can measure the temperature of water and dough with a food thermometer. These measurements are important because they correspond with the proving times in the recipe.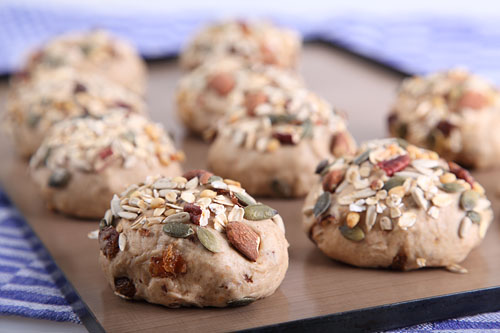 I always weigh each piece of dough before shaping to make sure they are all the same size and bake evenly.
Then add the raisins and muesli mix (you can add the whole 150 g or add 100 g and use 50 g to cover the top of the buns like I did in the picture) and 'pinch' it through the dough very carefully by hand, so everything is evenly distributed. If you are lucky enough to own a spiral mixer, you can use that instead and it will only take one minute. If not, just do the hard work by hand. Press the dough down with both hands into a flat disc and roll it up, cover it and leave to rest for 15 minutes. Now divide the dough into equal parts of 90 grams and make buns. Again leave to rest for 15 minutes. Press the buns with your hand until slightly flat and round the dough again into smooth balls. Lightly moisten the top of the buns with water and press them into the muesli mix that you kept behind or in the optional oats or crushed wheat.
Place the buns on a baking tray lined with a baking sheet (we use our reusable thin fiber baking mats) and cover with floured plastic wrap. Preheat your oven to 200 ºC /390 ºF conventional setting. The rolls are ready for their final proofing. Now wait til the buns are proofed to perfection, depending on your room temperature this should take at least 1 hour, but more likely 1.5 hours. Just be patient and check regularly.
A good method to see if your buns are ready is very gently poking your fingertip in your dough.
If the hole disappears completely: under-proofed
If the hole dent pops half way back out: proofing is just right
If the hole stays entirely dented in: over-proofed
When ready place the buns in the oven and bake for about 25 minutes, depending on your oven. They should have a nice golden brown shine. If they brown too fast, you can always temper your oven. Leave to cool slightly on a wire rack and eat one while still warm! They also keep very well in the freezer too.
Perfect buns? Read our tips on dough temperature…