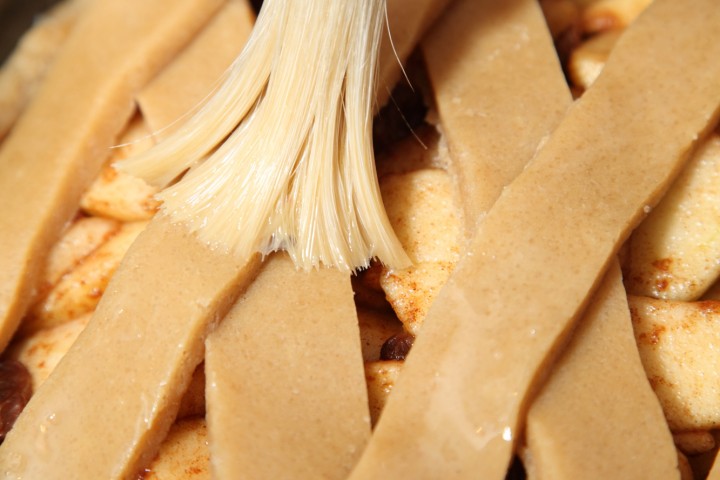 No matter where we are, this will always remind us of home!
Warm apple pie is the classic bake in Holland, to go with coffee or to get for dessert. Almost everybody loves it. Even families that almost never bake anything will probably know how to bake an apple pie or have a family recipe lying around. The classic Dutch apple pie always uses self raising flour in its dough and will usually have tart cooking apples for the filling. There will certainly be cinnamon in it and probably raisins, but the pie is also perfectly lovely without them.
So if you're an apple pie enthusiast I hope you will try our Dutch version, see how it compares to your own classic. It is hard to compete against those warm and comfortable childhood memories of the pie you grew up with, I know. But I am sure you could get used to this version too…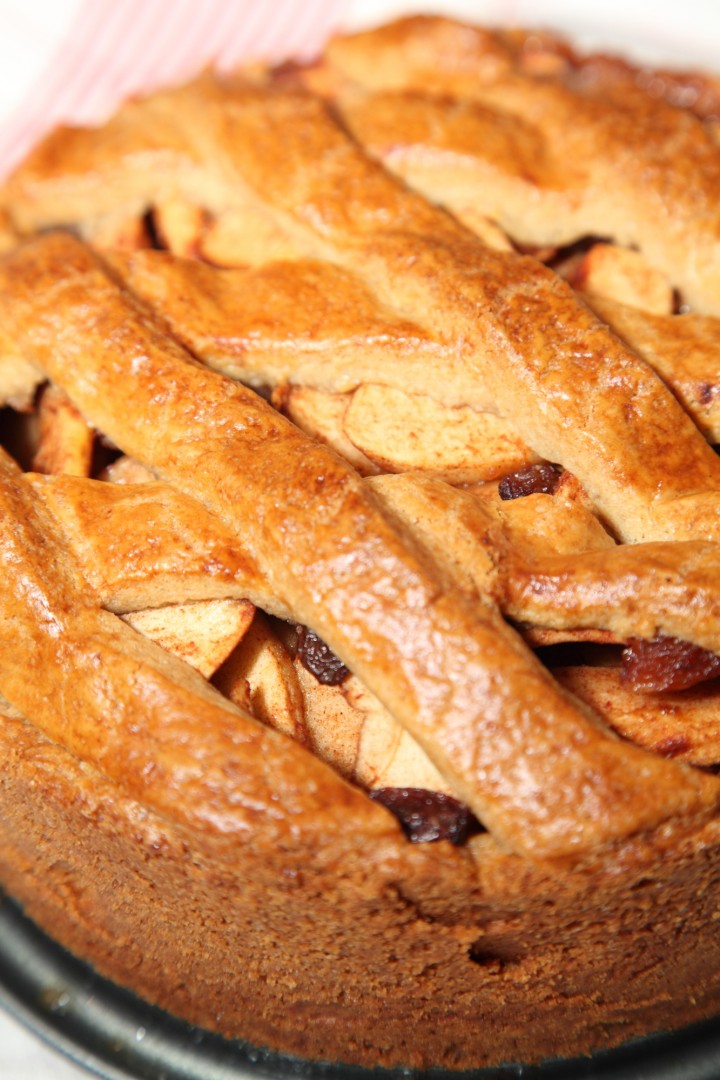 Ingredients for the Apple Pie
serves 6-8
300 g self raising flour
200 g cold butter in little cubes
150 g soft light brown muscovado sugar
3/4 egg (35 g) for the dough
1/4 beaten egg for brushing
a pinch of salt
1 kg tart apples (goudreignet/rode van boskoop)
fresh lemon juice
2 teaspoons / 6 g ground cinnamon
50 g sugar
50 g raisins, washed and soaked and drained (optional)
Mix self raising flour, salt, soft light brown sugar and butter in cubes. Rub with fingertips until you have a mixture resembling bread crumbs. Add the 3/4 egg and quickly knead the ingredients into a smooth dough. Leave to rest in the fridge for an hour.
Peel the apples and cut each apple into 4 equal parts and cut each part into 5 thick slices, sprinkle with lemon juice to prevent oxidation . Add the cinnamon and 50 grams of sugar to the apples and stir. Add the raisins, leave them out if you do not like them. Cover and set aside.
Preheat the oven to 175ºC / 350ºF. Line a round buttered springform baking tin (22 cm for very generous covering or 24 cm for a 'good fit') with 3/5 of the dough. Add the prepared apples. Make sure to distribute the apple slices evenly and to fill the pie so it is firmly packed with apple (the apples will slink from baking). Shaking the tin a bit might help you to achieve this.
Now with the left over 2/5 of the dough make a grid/lattice on top of the apples. Brush the grid lightly with the 1/4 beaten egg (add a bit of water to the egg to make it easier to brush). Place the pie in the middle of the oven and bake it for approximately 60 minutes, depending on your oven. Keep an eye on it while baking.
Leave to cool. You can eat it warm, which is very nice, but I like it even better when cooled completely.
More apple pie: Apple pie a la Normande
A light alternative: Apple Pie Scones