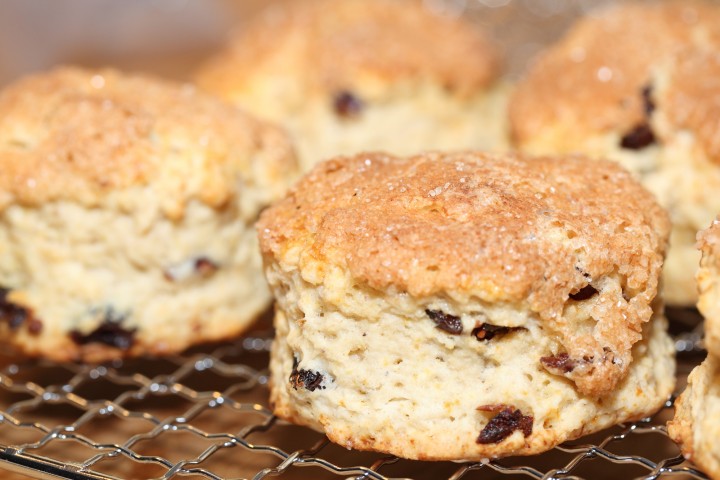 Fragrant tatters of cinnamon and cardamom will linger in your Christmas House!
Nederlandse versie volgt…
A sugar cinnamon crust: This should be good!
You can find a Christmas Scones recipe on the WKB website already, but, same as with boy bands, there's always room for more. While the first one has more butter, sugar, egg and spices in its ingredients list, this version is lighter with just a hint of cardamom in the scone itself, but with the added bones of a crusty cinnamon sugar top to give it the right balance. The crust idea comes from Ruth – The Pink Whisk of Great British Bake Off fame. I love Ruth's recipes, the ones I have tried all work wonderfully well. I decided to add some cinnamon to the sugar and it turned out just as I hoped! The redness of the added cranberries will do the trick to make these scones deserve their Christmas title.
Use fresh cardamom
I so enjoy pounding on the cardamom pods and then grinding the seeds to a powder with my pestle and mortar. Using this fresh from the pods cardamom is much more pungent than the ready bought powder. Be aware of this when you use it. There is a fine line with cardamom between just right and too much, but of course this also has to do with personal taste. Don't be too generous the first time you use cardamom, you can always add more next time.
Miniature versions to please everyone
I have a soft spot for miniature versions of the things I bake. These scones also don't mind if you make 16 small ones instead of 6-8 big ones. I like to give people options and at Christmas time you tend to eat too much anyway. So this way people can taste and try other things and if they like these scones, they can have two…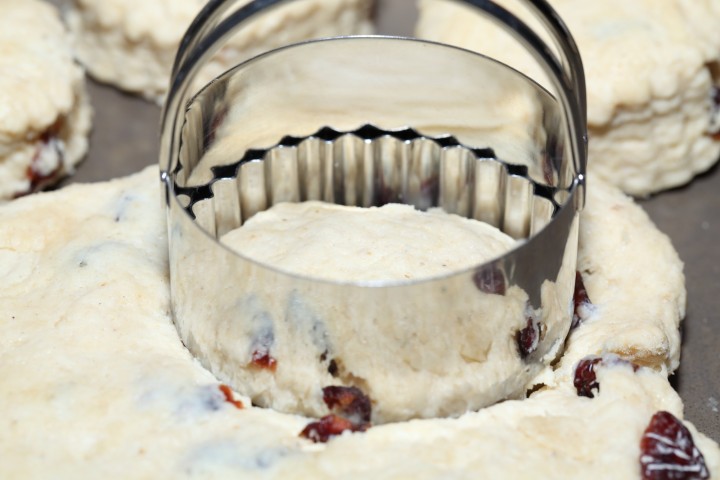 Ingredients for the Crusted Christmas Scones
Makes 8 Scones
225 g self-raising flour (or add 10 g baking powder to 225 g plain flour)
50 g butter in cubes
25 g sugar
120 ml buttermilk (or milk)
75 g dried cranberries
1/4 tsp ground cardamom
pinch of salt
For the Cinnamon Crust
1 egg, beaten with a little water
30 g sugar
1/2 tsp cinnamon
Making the Crusted Christmas Scones
Preheat the oven to 210ºC / 410ºF. First grind the cardamom seeds if you are using the pods (….and you should!). Then combine the 30 g sugar and 1/2 tsp cinnamon for the crust. In a separate little bowl beat the egg with a splash of water to make it less slimy. Set aside. Sift the flour, a pinch of salt and the ground cardamom in a bowl, add the butter in cubes and rub into the mixture until you have a breadcrumb consistency. Add the sugar and cranberries. Add the (butter)milk, maybe not all at ones, see how it comes together and then add more. First stir with the back of a knife until it comes together, then quickly form a dough with your hands. If the dough is a bit dry, add a bit more (butter)milk. Roll out the dough into a circle. It should be approx. 2.5 cm/ 1 inch thick. Cut out the scones with a cutter or a glass (press it down but do not twist it). Dip the top of each scone first in the egg and then in the cinnamon sugar. Place on a baking tray and bake in the oven for about 15 minutes. They have to be well risen and light brown with a dark golden brown crispy crust on top. Leave them to cool on a wire rack. Serve with clotted cream, creme fraîche, or butter and (homemade) jam of choice. We also eat them without cream or jam, fresh from the oven and still warm….goooood!
Have you seen our recipe for Merry Christmas Muffins?