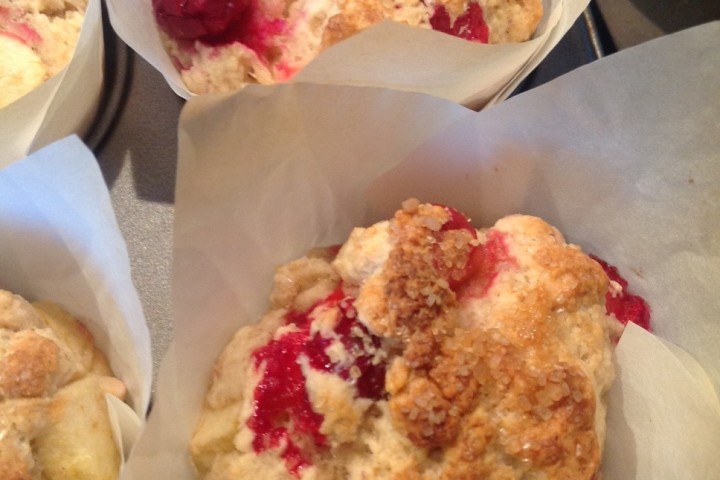 Dreaming of a light Christmas: Apple Pie indulgence with a third of the calories…
We have built quite a large fan base asking us time and again for these apple pie scones. People love the fact that they get an apple pie taste without the extra calories. Looking at the recipe you can see the difference, far less butter and sugar plus buttermilk to make it almost healthy. With all the heavy food offered around Christmas time, these will be easy to make and to digest. I make the scones with our organic wheat flour, the same we use for our bread baking, but of course you can use all purpose flour or pastry flour. I just find the bread flour adds more taste.
I normally bake these scones without the cranberries, nutmeg, cloves and cardamom, but I thought I'd give them the December makeover. I love the tartness of the cranberries and the bright red accents they give. If you are going to make this recipe be sure to use an apple full of flavor to get maximum apple taste, otherwise the cranberries can overpower.
Coated with some icing sugar they will hopefully add to the magic of your Christmas breakfast or brunch table. If you are thinking about offering friends and family a festive high tea, I suggest you serves these scones together with the mini mince pies, the baby it's cold outside cardamom cake, and Christmas brownies with drunken cherries. If you are looking for more Christmas scones options? Take a look at this recipe for cinnamon sugar crusted scones!
Happy Holidays and Happy Baking!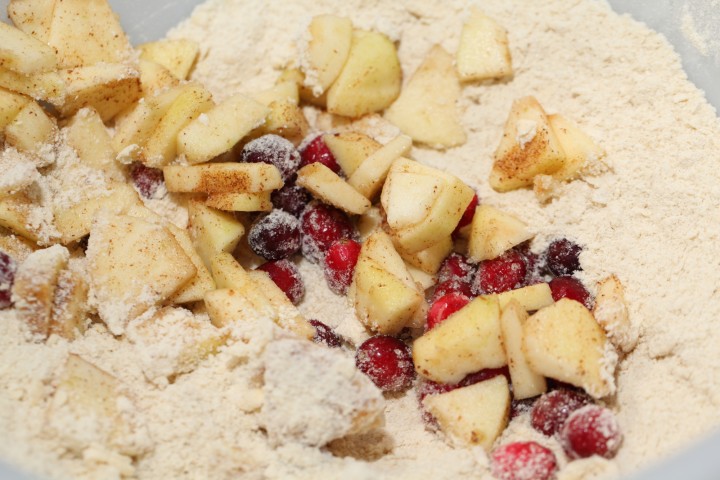 Ingredients for the Apple Pie Scones with Cranberries
Makes 8 Scones
225 g flour
10 g baking powder
60 g butter in cubes
60 g sugar
120 ml buttermilk (or milk)
1 small tart apple cut into chunks
50 g fresh cranberries
grated cinnamon
lemon juice for the apple
pinch of salt
a hint of grated nutmeg, ground cloves and /or cardamom
raw cane sugar
icing sugar (optional)
Crème fraîche (optional)
Making the Apple Pie Scones with Cranberries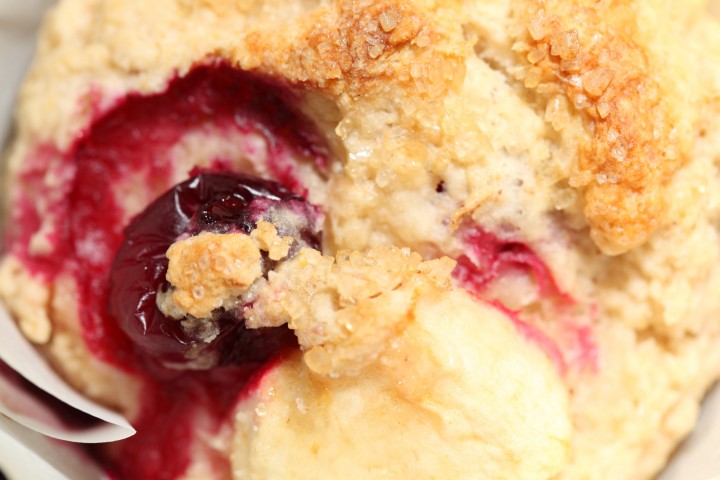 Preheat your oven to 210ºC / 410ºF.
First prepare the apple by cutting it in parts and adding some lemon juice and grating cinnamon on it. Set aside.
Sift the flour with the salt AND baking powder. Add the butter in cubes and rub into the flour until you have a coarse breadcrumb consistency. Add the sugar, nutmeg and ground cloves to taste, and mix. Now add the apple parts and cranberries and combine. Add the buttermilk, but not all at ones.
See how it comes together as you stir the mixture with the back of a kitchen knife and add more buttermilk if needed. Bring it all together quickly, refrain from unnecessary kneading, you want your scones to be light and not develop too much gluten.
Form a ball and press the ball into a flat disc on your baking tray, covered with baking parchment or a reusable baking mat. Cut the disk into 8 segments (see picture). I use a big plastic dough scraper and it does the job brilliantly. Alternatively you can bake the scones in muffin cups, which look really festive too. Now cover the top with some raw cane sugar and bake in the preheated oven for 20 minutes (baked in cups they need a little longer, about 25 minutes). The outer edges must be dark golden brown and crispy and check the middle is done too.
Best to eat them while warm and fresh but they can also be frozen, thawed and given a quick boost in the oven. When served cold dust them with some icing sugar and a dollop of crème fraîche because after all, it is Christmas…