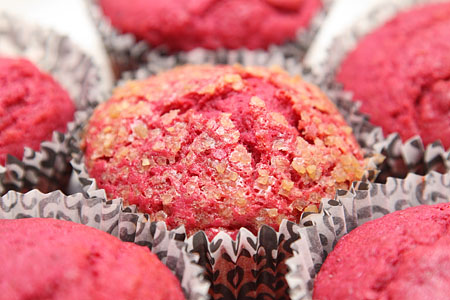 Today I made delicious vanilla muffins. Thinking of red velvet cake, I added color by using beetroot puree. The paints of nature can be more intense than any artificial coloring!
Ingredients for the basic Beetroot Muffins
100 grams of just melted butter
275 ml of yoghurt or buttermilk
200 grams of fine sugar
300 grams of self raising flour
2 large organic eggs, beaten
4 to 5 tbsps of beetroot puree
1 tsp of vanilla extract
pinch of salt
some raw cane sugar to sprinkle on top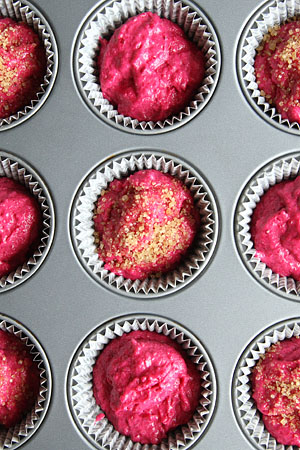 This is how you make the muffins
Preheat the oven at 180ºC / 355ºF. Grease a muffin tray, or use a silicon mold or paper cupcake mold. Mix the wet ingredients in a bowl. Sift flour and salt in a separate bowl. Mix wet and dry ingredients until just combined. Fill the molds and sprinkle some raw cane sugar on top of each muffin. Bake in the preheated oven for 20 minutes.
Optional extras
Blueberries! Think of the colorfest of pink and purple together!
Chopped nuts like pecans or pistachios
Vanilla frosting on top
A variety with chocolate