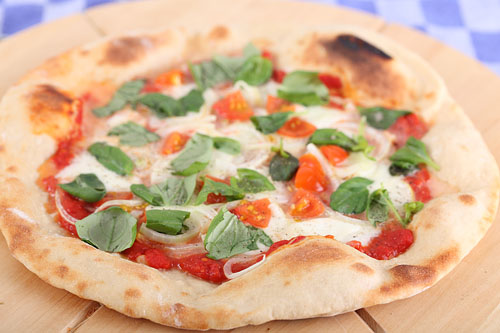 For our new recipe check out our latest pizza baking and dough making with our new oven here!
Always looking forward to making pizza during the weekend. Be it classic with mozzarella and tomatoes, or my favorite alternative with pear and taleggio cheese. Of course making your own pizza dough is the way to go…
What's true for the tomato sauce also goes for the pizza crust: less is more. If you want an authentic Italian pizza that is. I think they are the best, so I stick to the simplicity of it (not that making a good pizza is simple!). Try this recipe and see if you like it and can make it your own. Even the olive oil is optional. And remember, good pizza has a lot to do with the baking. Professional pizza ovens are very hot and have a stone floor. Try to get as close as possible to recreating these conditions (oven temperature to the max and well heated pizza stone).
More time? More taste! Check out our recipe for pizza dough with a poolish.
Ingredients for the Pizza Dough
makes 4 pizza's
350 g Italian typo 00 pizza flour (all purpose flour / plain flour)
8 g sea salt
7 g instant yeast
approx 220 g water
12 g / 1 tbsp olive oil (optional)
flour for dusting the peel (semolina, rice or cornmeal would be ideal)
Making the pizza dough
Stir together the flour, salt, and instant yeast in a bowl. Add water and mix for 7 minutes in your mixer with dough hook attached, or until the dough is smooth and slightly sticky (by hand it will take a bit longer, 10 to 15 minutes, depending on your technique). You can add the optional olive oil as soon as the dough starts forming a ball. The dough should clear the sides of the bowl but slightly stick to the bottom of the bowl. Transfer the dough to the worktop, lightly dusted with flour. Prepare a sheet pan by misting it with spray oil . Using a dough scraper, cut the dough into 4 equal pieces. Lift each piece of dough and gently form it into a ball. Transfer the balls to the pan and cover with floured or greased plastic foil. Leave to rest at room temperature for 1 hour.
At least 45 minutes before making the pizza, place a baking stone on the floor of your oven, or on a rack in the lower part of the oven.
Preheat the oven as hot as possible, (most ovens won't go higher than 300ºC / 570ºF). We use the Bestron Alfredo pizza maker, it has a stone and two heated spirals and can reach temperatures above 350ºC / 660ºF and works really well for such a simple device.
Place the dough balls on top of a floured worktop and lightly sprinkle them with flour; dust your hands with a bit of flour. Take a ball of dough and gently press it into a flat disk. Now you can try tossing the dough like a real Italian pro but this is a skill that requires some practice (I can't do it). You can, like most people, resort to using a rolling pin and roll and stretch the dough into a disk of about 25 cm /10 inches. Now lay the pizza on the peel or pan, making sure there is enough (semolina) flour to allow it to slide. Lightly top it with sauce and your other ingredients of choice (start with 3 or 4 ingredients, keep it simple to give the crust a good chance to bake).
Slide the pizza onto the hot stone and close the door. Keep an eye on it and see if after 2 minutes or so it needs to be rotated for even baking. The pizza should take about 5 to 6 minutes to bake.
Remove the pizza from the oven and transfer to a cutting board. Wait a minute before slicing and serving, to allow the ingredients to set.
Enjoy!