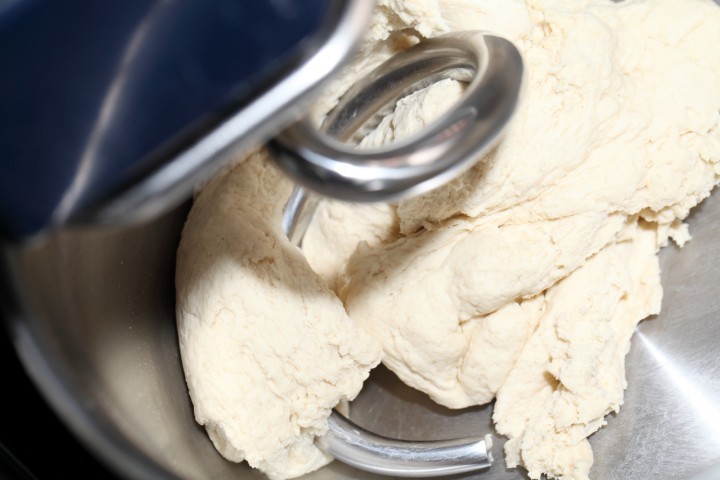 DDT, friction, gluten development, under- and over mixing…there's a lot going on when your hands or hooks get to grips with your dough.
Properly mixed dough is the first critical step to achieving great bread. Understanding what happens during the mixing / kneading process helps to determine if you are on the right track.
So, based on our own baking experience, here are our most important tips on the subject hopefully helping you off to a good start.
We know some people are really devoted to their cups and teaspoons but we also know great and famous bakers have our backs when we say: please, please measure your ingredients with a proper scale by weight instead of volume! This is the only way to know your ingredients are measured right and one of the most important steps in achieving consistency in baking.
Whenever possible control the temperature of your dough. For home bakers the easiest element to control is the temperature of the water to get to the right DDT (Desired Dough Temperature). Also read up on our tips on dough temperature!
Kneading dough with a mixer gives friction and the temperature of your dough will increase because of it (on average 1°C per minute of mixing). There are friction factors for different types of mixers but for home bakers this can all get too complicated. The most important factors under your control are the temperature of your room, flour and water. Most of our bread recipes have a build-in dough calculator that allows you to calculate the final dough temperature by filling in the correct temperatures for your room, flour and water.
Get all your ingredients weighed and ready. When adding the salt or yeast at a later stage, put it in plain sight, so you will not forget to add it!
As a rule, always begin with putting the flour and possibly the poolish in your mixing bowl first. We put the flour on top of the poolish and then add 3/4 of the water on the flour. When you start adding the rest of the water you can still hold some of it back (especially with new recipes) and see how the dough comes together. Working the other way around you might end up having to add flour and this possibly changes the whole balance of the recipe.
Example of a full window pane. Artisan bread doesn't need dough to get to this stage most of the time
The different proteins in your flour are responsible for the development of gluten during mixing. In general longer mixing means a more developed gluten structure. It is possible to over-mix dough at which point the gluten chains can break, but from our experience home bakers are more prone to under-mix their dough, not building up enough strength and elasticity. It is very hard to over-mix a dough without professional spiral mixers. Experience and handling lots of dough will best teach you how your dough should look and feel at any stage of a recipe.
Rule of thumb; longer mixing gives a tight and more regular crumb structure, shorter mixing (with help of stretch and folds) give a more irregular open crumb structure.
If, like us, you are a fan of artisan bread with creamy crumb, open structure and lots of flavor, opt for short mixing by hand or low speed, longer fermentation times and added bread development techniques like stretch & fold and autolyse
Take note of the fact that in the first stages of mixing the flour absorbs water and dough can feel dry(er) but in a later stage a part of the water is released back by the flour so the dough feels a bit wetter again. This is a subtle effect but it is important not to act directly by adding water or flour in these first minutes of mixing.
During the bulk fermentation and stretch and folds the dough firms up and absorbs the water a little bit. During each stretch and fold (which is also a kind of mixing!) the dough becomes a little bit less sticky. So anticipate a little bit for this effect by keeping you dough a little bit wetter than you like it to be during shaping.
Wetter doughs (> 64%) also give a more open irregular structure in comparison to dryer doughs, but handling these wetter doughs can be a bit daunting the first few times.
Also note that each type and brand and even batch of flour can act different when it comes to water absorption. So even when you bake the same recipe, adjustments may be necessary. With each new bag of flour we see small differences and need to adjust the water by plus or minus 1 to 2 %.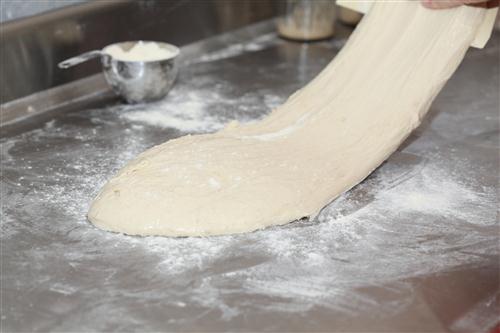 Stretching and folding dough is a gentle technique that, together with time, allows you to develop the dough, building good gluten structure without intensive mixing
Be aware that adding extra ingredients in the form of fat or sugar can have an effect on the development of your dough. Depending on the quantities used it is important to add them at the right stage of the mixing process. In general very small quantities can be added at the beginning of the process but larger quantities are best added later in the mixing process when the dough is (almost) developed.
When adding extra ingredients like dried fruits and nuts to your dough do this very gently, either by hand or on a low mixing speed, and at the end of the mixing process. This way both the extra ingredients and the gluten structure of the dough will stay intact.
Want to experiment with different mixing and folding techniques and see how they influence your dough and bread making? Try our Hybrid Pain Rustique or Sourdough Pain Naturel recipe next to our version of a Tartine style bread recipe. A great example of the effect of a more intense mixing technique on dough is our Ciabatta-Focaccia recipe.