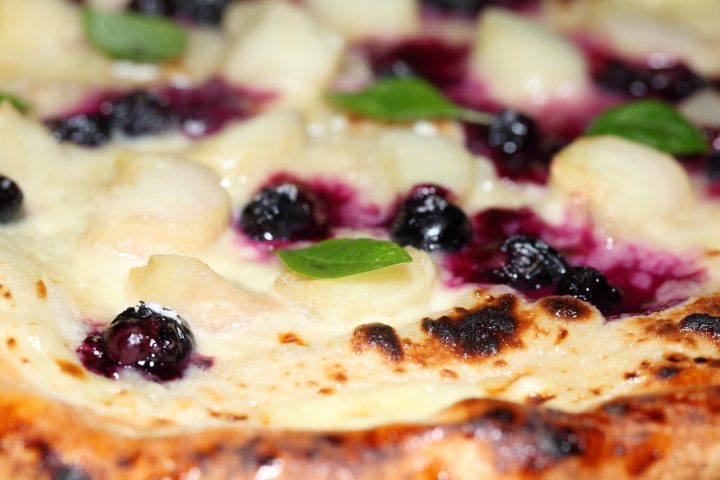 Sweet! Also look at the two short videos we made of the sweet pizza baking
We had heard of a sweet pizza 'invented' by Gordon Ramsay before. It contained lemon curd, crème fraîche and basil and the buzz was it should be amazing. Recently we saw this show in which Gordon Ramsay, Gino D'Acampo and Fred Sirieix travel through Italy, France and Scotland. A road trip with lots of fun and lets say drool and nonsense and not much in-depth sharing of cooking knowledge, but as we say in Holland, very 'vermakelijk' (diverting). In the Italian episode, they visit a famous Neapolitan pizzeria called Antica Pizzeria Port'Alba, and after eating some amazing pizza, Gordon seems to invent this sweet lemon pizza on the fly and everybody is very exited by it.
So our last pizza baking session with the Roccbox, we decided to try one or two sweet ones. And, being a big fan of all ingredients, especially home made lemon curd, we made a few versions with the zesty, fruity tartness. Our favorite version included the addition of some sweet summer fruit with fresh blueberries and peach. We loved it, so here's the recipe for you to try. Simple, quick and delicious!
---
Sweet summer fruit pizza with lemon curd, crème fraîche, white peach, blueberries and basil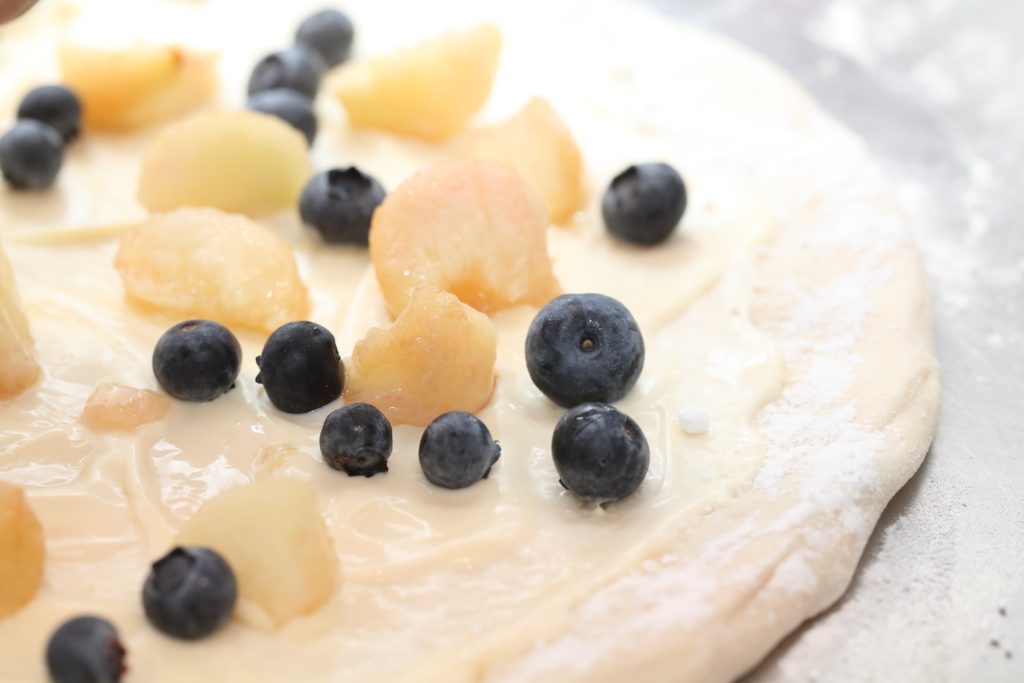 For this recipe we use the pizza dough recipe we shared with you in part II of this series, our 24 hour pizza dough recipe The recipe makes 4 pizza's. We make 3 savory ones and one sweet version with this batch.
Ingredients for the sweet summer fruit pizza
makes 1 pizza
one pizza base (240 g dough from our 24 hour pizza dough recipe)
50 g / 3 tbsps crème fraîche
30 g / 1 heaped tbsp lemon curd (or to taste of course)
one ripe white peach cut into slices
fresh blueberries, (we used about 30)
icing sugar to dust the edge of the pizza
fresh basil leaves after baking
In a bowl combine the crème fraîche and lemon curd. Spread the base of the pizza with a two tablespoons of this mixture. Then add the pieces of peach and blueberries. Now dust the edge of the pizza with icing sugar. It will caramelize while baking and give a lovely something extra to the crust.
We bake this pizza in our Roccbox pizza oven at the slightly lower temperature of 350°C (other pizza we do at 400 to 425 C) for about 2.5 minutes, turning the pizza regularly. When ready serve with a dollop of the lemon crème fraîche and fresh basil leaves.
Watch this small clip of us baking the sweet summer fruit pizza
Watch this small clip of the Gordon Ramsay style sweet pizza with baked lemon curd
Of course we would love to hear what you think about the pizza and please share your own versions to inspire us!
You can share pictures on the yourloaves page too.