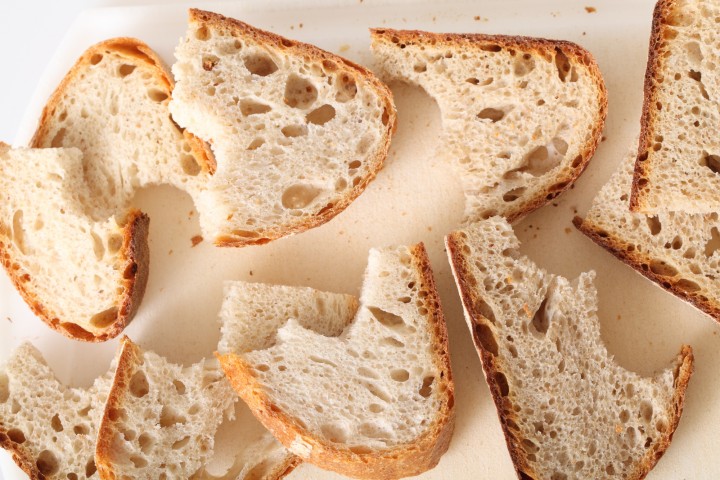 We are always going on about good quality flour. But does it really make a big difference?
What happens if you take one recipe, use the same amount of ingredients and the same process and only change the brand of flour you use?
We were curious to find out how much difference, in taste, texture and appearance, there would be between a bread made with good quality organic stone ground flour compared to one made with one of the cheapest supermarket flours we could find.
The only difference between version 1 and version 2 in this experiment is the flour brand, the rest is exactly the same.
So, how shocking are the results? read on to find out!
Also check out our second experiment comparing flour from different mills
From left to right: Version 1 to 4. See the difference in crust and color.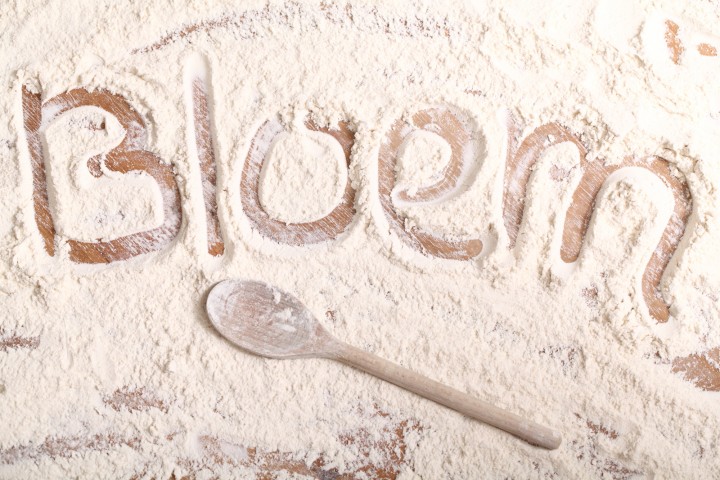 The most important comparison is the one between version 1 and 2. Version 3 was added mainly to see if, with a little tweaking, version 2 could be 'upgraded'. The expectations were the cheap flour would be lacking in protein content, and also taste, compared to the stone ground high quality, higher protein flour. But the challenge is, you don't really know the protein content because this information is almost never mentioned on the package (at least that is the case here in Holland). We only know from our miller that the organic wheat flour we used for version 1 has a protein content of between 12.5 and 13%.
Version 4 was added as a quirky side experiment, requested by a friend, using a German 'Quellstück' (you can see it as a poolish without yeast, so just flour and water) as a 24 hour preferment. In the final dough we added a little extra yeast to compensate for the lack of yeast in the preferment.
To simplify things we used a yeast version of our staple pain rustique recipe. So we dropped the sourdough in the preferment and made a yeast bread instead of a hybrid bread like we usually do.
---
THE DIFFERENT VERSIONS
Version 1: Zandhaas windmill stone ground organic whole wheat and organic wheat (bread) flour
Version 2: Generic supermarket whole wheat and wheat flour
Version 3: Generic supermarket whole wheat, wheat flour and cheap brand semolina flour
Version 4: Generic supermarket whole wheat and wheat flour (+replaced preferment with German type 24 hour 'Quellstück' without yeast)
From left to right: Version 1 to 4. See the difference in crumb color and structure.
---
CONCLUSIONS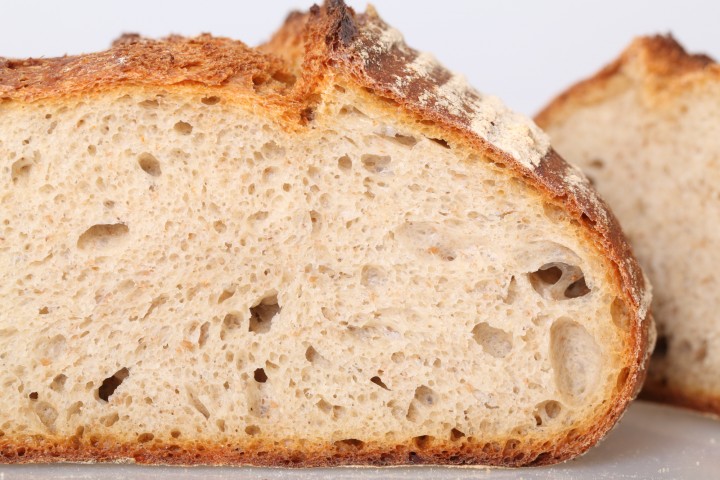 Version 1 – Zandhaas Windmill bread
Using the flour we always use, it is no surprise this loaf of bread turned out as expected. In the picture you can see the color of the crumb is a bit off white leaning towards grey. This has to do with the unbleached, stone ground quality and the presence of a percentage of wheat germ and bran in the flour. The flour itself has a slight yellow hue because of the carotenoid pigments, which also provide better aroma/taste.
---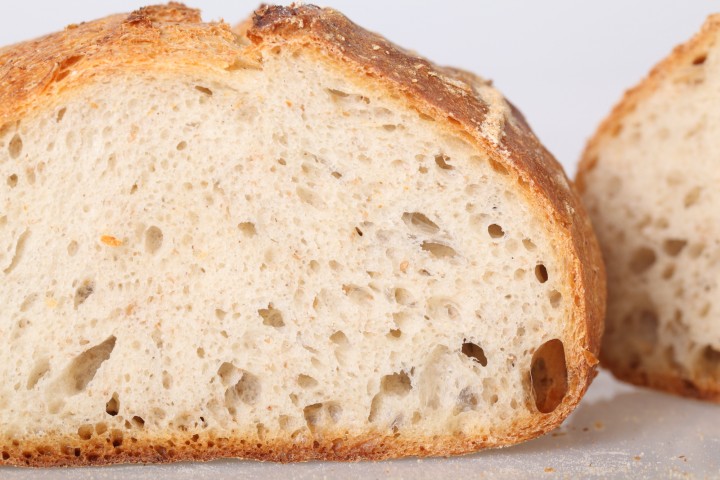 Version 2 – Generic supermarket flour bread
As you can see for yourself looking at the picture, this bread has a very white crumb. This is probably due to the fact that the flour has been bleached. The end result was a very bland tasting bread with a lackluster appearance and, as you can also judge for yourself, no tear or grigne to speak of. The difference in color compared with version 1 can perhaps be explained by the lack of enzymes in the flour. Enzymes are responsible for transforming starch (complex sugars) into simple sugars and the sugars in turn feed the yeast and color the crust. The difference with version 1 is very big and all we did is change the flour, not the recipe! Because all 4 breads in this experiment are made with the short mixing method (combining, autolyse, 4 minute mixing, stretch & folds) all 4 of them have a more or less open and irregular crumb structure. So a conclusion could be, that the recipe is more responsible for the crumb structure than the flour used.
---
Verion 3 – Generic supermarket & semolina flour
We guessed the cheap generic supermarket flour would probably be lacking in protein, so for the third experiment we enriched this flour with semolina flour, also often used to make pasta dough. Semolina flour is made from hard (durum) wheat and contains lots of protein and is therefor considered a strong flour. We added an amount of semolina to the poolish so it could soak overnight. We did this because it was rather coarsely ground. What we expected happened, version 3 of the bread has a better oven spring resulting in a nicer tear (grigne) and opening of the crust. The taste was a little bit better compared with version 2, but still did not come close to the complexity of taste we got with version 1, the stone ground organic flour version.
---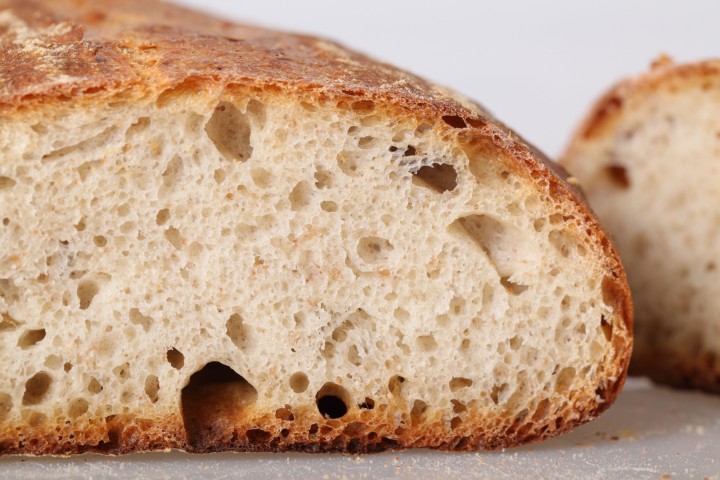 Version 4 – Generic supermarket with 'Quellstück'
As a separate, some would say quirky, and fourth experiment we tried to see if there is any difference between using a poolish and a German 'Quellstück'. We never used a 'Quellstück' before and we had no idea what it would mean for the end result. So the only thing we changed to the recipe was that, instead of a poolish (yeast, flour, water / 12 hours), we used a 'Quellstück' (only flour and water / 24 hours). The 'Quellstück' smelled rather musty after 24 hours and the same smell unfortunately ended up in the final dough and baked bread. Although we used the exact same amount of water as we did with the other three recipes, the dough felt much wetter and was lacking in strength which made it very hard to shape. As you can see looking at the picture, there was no nice oven spring and the bread ended up with a very thick crust. All in all we rated this version as the absolute worst of the bunch.
---
So, this was part one of the flour experimentation scheme. The next part will be all about windmills and stone ground flour. We are interested to find out if, how and why flour from different mills will give (dramatically?) different baking results. As you can judge from the above, we are very pleased with the flour quality of our regular provider De Zandhaas. But we do expect that flour from other windmills will also give great baking results. We will keep you posted. Plus we would be very interested to hear about your experiences with flour quality in bread baking!
Recently two baker friends switched from generic supermarket flour to Zandhaas windmill organic stone ground flour and independently told us 'this is a totally different product'. The feel, the smell, the baking, everything has improved. One friend said: "It smells like wheat fields." Which was, we think, picturesquely well put.