Tag Archives:
rye bread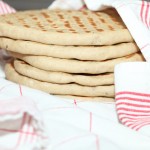 A few years ago I had braces (yes I was very late) and for over a year crusty baguettes weren't compatible with me. I was more comfortable with soft foods and things I could drink with a straw. That year we visited Norway and I found this wonderful soft bread in a Coop supermarket, which at the time was like walhalla. It was called polarbröd and it turned out to be… >>
This bread has such great taste and such a nice bite plus, combined with the scattered sweetness of the big raisins, every bite is a delight. I strongly recommend that every home baker fan of the rye taste makes this bread. It is one of my top 3 favorite breads. Shaping it is a bit like working with clay, as you can see in the pictures. It feels a bit like… >>
As a child I loved this dark, moist rye bread, which in Holland we call Frisian Rye bread (Fries roggebrood, our version of a pumpernickel).
I never thought that one day I would make it myself and the result would be so rewarding! You have to be patient with this one, because it takes about 10 hours… >>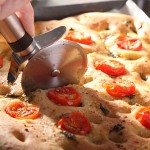 This Saturday finally proved to be a good day to get some fresh flour from the mill. It is a bit of a journey for us and the last few weeks the weather was not cooperating (snow, ice, cold). The type of weather I like, but also the one that makes you want to… >>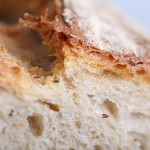 Do NOT store bread in your fridge because the temperature of the fridge (about 5 degrees Celsius) is about the worst climate for keeping bread so it's the fastest way to old and stale loaves and rolls. Store it in your freezer or in a plastic bag at room temperature. The best thing of course is to eat it after it has (almost) cooled down…..more tips… >>